Types of dentures
Anyone who has lost one or more teeth usually wants them replaced as quickly as possible so that they can carry on with their normal life. The best type of denture and whether it is a good idea to have one at all will depend on a number of different factors – such as whether there are still neighboring teeth on both sides of the gap in the teeth and how healthy they are, and whether there are still teeth above or below the gap. Other things to consider include oral health and oral hygiene, as well as the person's age and lifestyle factors. Their personal preferences and expectations, ability to pronounce words and chew properly and – last, but not least – the costs will play a role too.
There are fixed and removable types of dentures. Crowns and bridges, for example, are fixed permanently to the teeth, but there are also different types of removable dentures available.
Artificial teeth can be attached to remaining teeth or dental implants. Dental implants are artificial roots anchored in the jaw. The various types of dentures can also be combined in different ways: A crown might be fixed on top of a dental implant, and then a partial denture could be fixed on top of the crown.
Before suggesting the best type of denture, your dentist will first examine your teeth to see how large the gap in the teeth is, where it is located, and whether there are still teeth next to it. The dentist will also check how healthy your jaw and any neighboring teeth are.
In the German health care system, your dentist puts together a treatment plan and cost overview, and then submits it to your health insurer before treatment can begin. The health insurer will then let you know what part of the treatment costs they will pay. If you have questions about the different treatments and costs in the plan your dentist suggested, it may be a good idea to get a second opinion from another dentist. Statutory health insurers and patient information centers run by the dental association also provide advice on dentures and artificial teeth.
Fixed dentures
Crowns are artificial (prosthetic) teeth made of metal, porcelain or plastic. They are placed on remaining teeth to stabilize and preserve them. Full crowns cover the entire tooth, and partial crowns only cover part of the tooth. In order to create a well-fitting crown, the dentist first needs to file the remaining tooth and make a mold.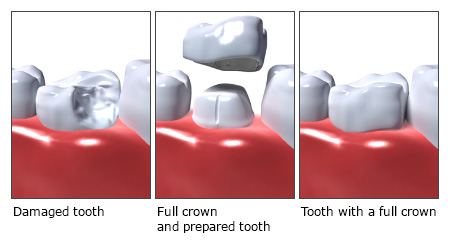 Full crown
Bridges can replace one or several teeth, and are usually used for smaller gaps. They are only an option if there are enough remaining stable teeth, or if dental implants can be put in first. These are needed in order to keep the artificial teeth in place, so they can close the gap. The teeth that are used to support bridges are sometimes called "abutment teeth."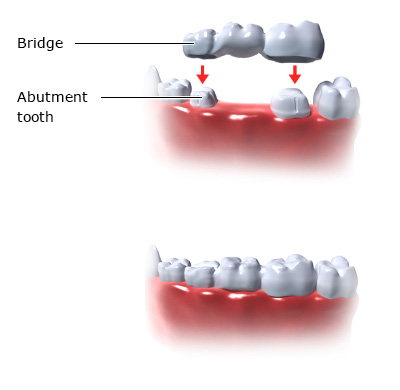 Bridge
Different types of bridges may be needed, depending on the location and size of the gap. For example, a fixed bridge can be used to close a gap between two teeth. It is fixed to two abutment teeth – one on either side of the gap. These provide support for the bridge. Cantilever bridges are used to replace teeth that only have an abutment tooth on one side, such as a molar at the very back of your mouth. These kinds of bridges are supported by at least two teeth on the other side, for extra stability.
Bridges can be fixed in place in various ways. The abutment teeth can be recontoured (filed down and reshaped) and then fitted with crowns. The artificial tooth is then fixed to the crowns on either side, forming a bridge. In inlay bridges, fillings are put in the abutment teeth that the bridge is anchored to. Resin-bonded bridges (also called Maryland bridges) bond the artificial tooth to the backs of the neighboring teeth using short metal "wings."
Dental implants
Dental implants are artificial tooth roots made of metal (titanium) which can hold different types of artificial teeth, including crowns or bridges. Dental implants are anchored in the jawbone, much like wall plugs are used in a wall. The bone tissue there fuses with the surface of the dental implant to provide a stable foundation for the artificial tooth. Artificial teeth that are supported by dental implants are also referred to as superstructures.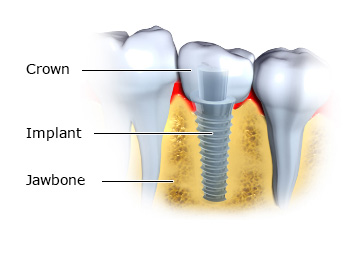 Implants with artificial tooth attached at the top
Removable dentures
Partial dentures made of plastic and metal can be used if several teeth are missing, but there are still remaining teeth nearby. They are fixed to natural teeth or implants – for instance, using metal clasps – and can be taken out at any time.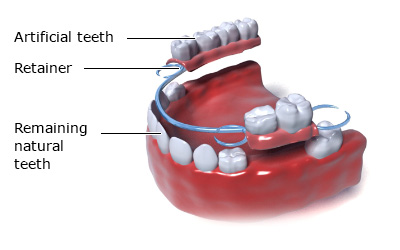 Partial dentures for the lower jaw
Complete dentures replace all of the natural teeth in the upper and/or lower jaw. Ideally, they look just like natural teeth and allow you to chew and speak normally again. Complete dentures are usually made entirely of plastic. The key to properly fitted complete dentures is a good match to the jaw. They can also be fixed to the roots of teeth or dental implants – and are then called hybrid dentures.
IQWiG health information is written with the aim of helping people understand the advantages and disadvantages of the main treatment options and health care services.
Because IQWiG is a German institute, some of the information provided here is specific to the German health care system. The suitability of any of the described options in an individual case can be determined by talking to a doctor. informedhealth.org can provide support for talks with doctors and other medical professionals, but cannot replace them. We do not offer individual consultations.
Our information is based on the results of good-quality studies. It is written by a team of health care professionals, scientists and editors, and reviewed by external experts. You can find a detailed description of how our health information is produced and updated in our methods.