Can acupuncture relieve chronic neck pain?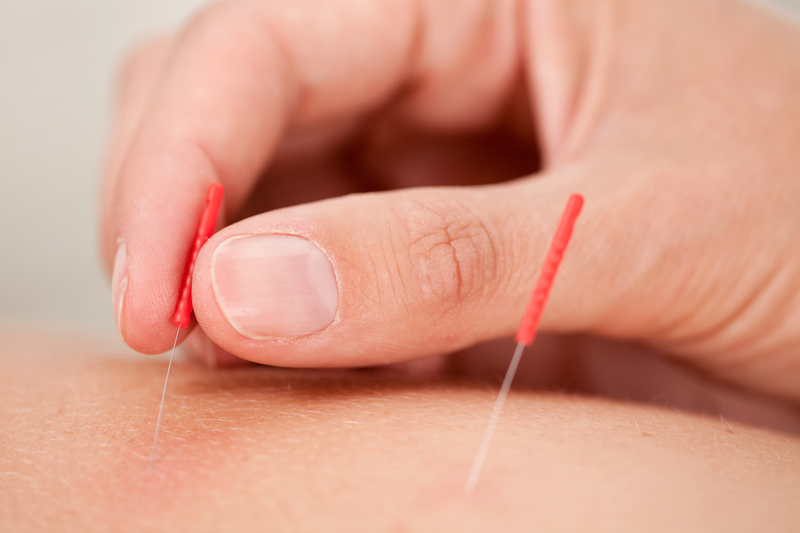 (PantherMedia / Tyler Olson)
Acupuncture hasn't been proven to relieve chronic neck pain any better than "fake" acupuncture does, in which the needles are only inserted into the very surface of the skin or at the "wrong" points.
Acupuncture is a traditional Chinese treatment in which thin needles are inserted into specific points on the skin. According to traditional beliefs, energy pathways (meridians) run through your body and can influence your body functions. It is thought that medical conditions can arise if these channels become blocked. To treat them, acupuncture needles are inserted into specific points along the meridians. But these energy pathways haven't been scientifically proven to exist, and there is some disagreement about where exactly the needles should be inserted.
It is also thought that acupuncture may relieve pain through other mechanisms. There is some evidence that inserting acupuncture needles causes pain-relieving chemical messengers to be released in the nervous system.
To find out whether acupuncture is actually an effective treatment for neck pain, good-quality scientific studies are needed. Studies can only deliver reliable results if they are set up as follows: A big enough number of volunteers are randomly divided into two or more groups. Each group has a different treatment, for instance acupuncture, physiotherapy, painkillers or a placebo (fake treatment). At the end of the study the groups are compared to see which of the treatments provided the best pain relief.
Problems with studies on acupuncture
The effectiveness of acupuncture can be influenced by many factors, such as the therapist's qualifications. There are also a number of different acupuncture techniques that vary, for example, in terms of where the needles are inserted. So good-quality studies are needed to be able to draw reliable conclusions about how effective acupuncture is.
A further challenge when doing studies on acupuncture is finding a suitable treatment to compare it with. One option is the use of fake acupuncture, where the needles are inserted into the wrong places, only inserted superficially, or not inserted into the skin at all.
Study participants who have fake acupuncture shouldn't know whether they are having real acupuncture or not.
The aim of this "blinding" is to make sure that the outcome of the study isn't influenced by the effects of suggestion or assumptions about the results of a treatment.
The latest research
A group of researchers commissioned by the U.S. Agency for Healthcare Research and Quality (AHRQ) analyzed studies on the use of acupuncture to treat chronic neck pain. They found several studies, but the studies only involved a small number of participants and were mostly not very conclusive.
Some of the studies compared certain acupuncture techniques with fake acupuncture. Those studies found that actual acupuncture didn't relieve the pain any better than fake acupuncture did.
Acupuncture can have side effects: Inserting the needles can result in minor bleeding or bruising. To avoid infection, it's important to use sterile disposable needles. The risk of serious side effects is low, though.
In Germany, some statutory health insurers cover the costs of acupuncture. But German statutory health insurers are not obliged to cover the costs of acupuncture for neck pain.
.
Furlan AD, Yazdi F, Tsertsvadze A, Gross A, Van Tulder M, Santaguida L et al. Complementary and alternative therapies for back pain II. Evid Rep Technol Assess (Full Rep) 2010; (194): 1-764.
Skelly AC, Chou R, Dettori JR, Turner JA, Friedly JL, Rundell SD et al. Noninvasive Nonpharmacological Treatment for Chronic Pain: A Systematic Review. June 11, 2018. (AHRQ Comparative Effectiveness Reviews; Volume 209).
Yuan QL, Guo TM, Liu L, Sun F, Zhang YG. Traditional Chinese Medicine for Neck Pain and Low Back Pain: A Systematic Review and Meta-Analysis. PLoS One 2015; 10(2): e0117146.
IQWiG health information is written with the aim of helping people understand the advantages and disadvantages of the main treatment options and health care services.
Because IQWiG is a German institute, some of the information provided here is specific to the German health care system. The suitability of any of the described options in an individual case can be determined by talking to a doctor. informedhealth.org can provide support for talks with doctors and other medical professionals, but cannot replace them. We do not offer individual consultations.
Our information is based on the results of good-quality studies. It is written by a team of health care professionals, scientists and editors, and reviewed by external experts. You can find a detailed description of how our health information is produced and updated in our methods.