What can you do if you have a corn?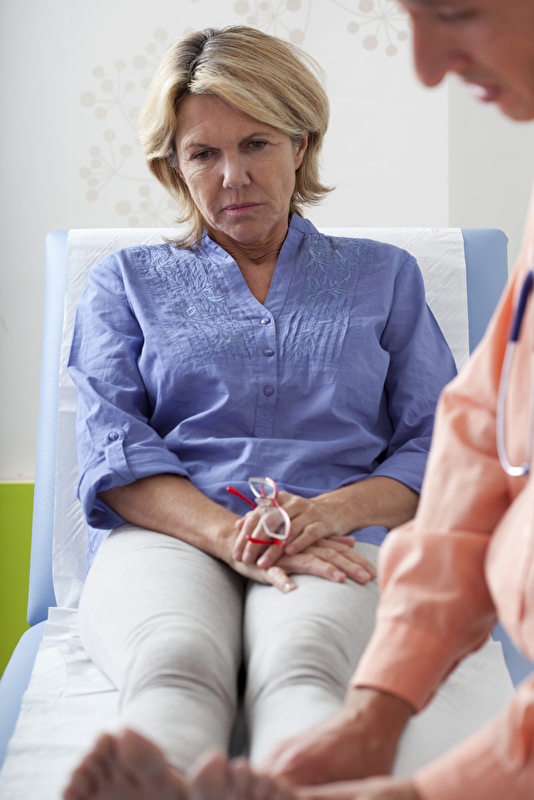 (PantherMedia / imagepointfr)
If the pressure and rubbing that causes corns is reduced, they usually go away on their own. But there are other things you can do – such as soaking the area in warm water and gently removing the excess hard skin.
Corns are common, particularly in older people. These painful lumps of hard skin often occur on your feet. They develop when an area of skin is repeatedly exposed to pressure and rubbing. If the pressure and rubbing stops, the corns usually go away too.
How can you reduce the pressure on a corn?
Corns are often caused by wearing shoes that are too tight. So it's a good idea to take a close look at your shoes and stop wearing those that are too tight. Wearing comfortable, well-cushioned shoes that aren't too tight can prevent other foot problems too.
Some people find it difficult to completely avoid wearing tight shoes – perhaps because they have to wear them for work, or think they look better. To make sure that you don't wear high heels or narrow shoes made of hard leather for longer than necessary, it might help to have a pair of comfortable shoes to change into whenever possible. You could keep them in your car, at work, or at friends' or relatives' homes.
It can also be a good idea to get professional advice – for instance, from an orthopedic shoe technician or in a medical supply store. If you have a deformity or joint disease affecting your feet or toes, even shoes that aren't tight can lead to pressure and rubbing. In that case, things like shoe inserts, silicone pads, pressure-relieving pads or custom-made shoes can help.
Corns can develop on other parts of the body too, though. Working with certain tools or using certain sports equipment like dumbbells can lead to corns on your hands. Things like gloves or foam handles can then help. If corns develop as a result of work-related activities, it's a good idea to talk to your employer about suitable protective clothing or aids.
How can the hard skin be removed gently?
As well as treating the cause, you can try to remove a corn using mechanical force, for instance with a pumice stone from a pharmacy or drugstore. First you soak the affected area of skin in warm water for about 10 minutes. Then you use the pumice stone to gently remove the upper layer of thick skin. This is done regularly – for instance, every other evening.
You shouldn't use tools with sharp edges, like razor blades or callus shavers. The risk of injury is too high, particularly if you're inexperienced. But it's normal for professional foot specialists (podiatrists) to use these sharp tools when treating corns and calluses. If the corn is very deep and infected, or if it has led to other complications, it should be treated by a doctor. People who have a higher risk of foot problems due to things like poor circulation or diabetes should also seek professional help rather than treating corns themselves. The same is true for people who can't reach their feet themselves.
How are medications for corns (keratolytics) used?
You can also try to remove the thick, hard corn skin using certain gels, creams, solutions or special pads. They contain drugs known as keratolytics, which are meant to help remove the excess hard skin bit by bit. Examples of these drugs include salicylic acid and urea. The treatment takes several weeks. Keratolytics are available in pharmacies and drugstores without a prescription. Some people use keratolytics as well as trying to rub the hard skin off themselves. Keratolytics can damage the skin and are more likely to lead to complications in people who have problems with their feet for other reasons – such as diabetes. Because of this, these people shouldn't treat corns with keratolytics themselves.