Seborrheic dermatitis in babies (cradle cap)
(PantherMedia / Robert Mittermayr) When babies have seborrheic dermatitis, it often causes thick dandruff-like flakes of skin to form on their scalp. But it may help to know that this "cradle cap" is harmless and doesn't need to be treated in babies.
In adults, seborrheic dermatitis can become chronic. Then the flaky patches of skin keep on coming back. If seborrheic dermatitis occurs during the first few months of a child's life, it usually goes away on its own within a couple of months and doesn't come back.
What does seborrheic dermatitis look like in babies?
The main symptoms are yellowish, oily flakes of skin on their scalp that don't easily fall off. This is commonly known as cradle cap.
Seborrheic dermatitis doesn't itch. But it can spread to other parts of the body, such as the face, neck, skin folds and the skin covered by a diaper (nappy). The patches of dermatitis look red on lighter skin. Children with dark skin have lighter patches. They are also less likely to have thick flakes of skin on their scalp.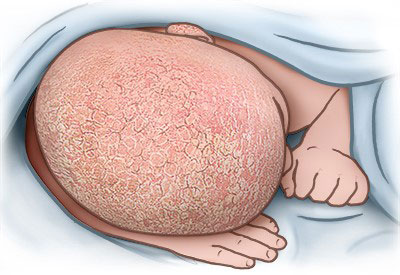 Seborrheic dermatitis on a baby's scalp
How does it change over time?
Seborrheic dermatitis typically starts in the first three months of a baby's life. It then usually goes away on its own and doesn't need to be treated. It's rare for babies to still have cradle cap by the time they are two years old. It generally goes away completely before the age of one.
What can parents do?
Many parents worry if they see that their child's entire head is covered in thick flakes of skin. But cradle cap doesn't bother the children, isn't contagious, and goes away on its own. If anyone else comments on the baby's appearance or is worried about the cradle cap being contagious, parents can let them know that it's not.
Getting advice from a doctor and finding out more about seborrheic dermatitis can also help parents to stay calm. A pediatrician can usually diagnose seborrheic dermatitis without any special examinations.
If you'd like to get rid of particularly thick flakes of skin on your child's scalp, you can use olive oil, for example. Softening the flakes overnight with a little olive oil can help you to wash them out the next day using baby shampoo. A zinc paste can help in moist folds of skin, for example the skin covered by the baby's diaper.