Introduction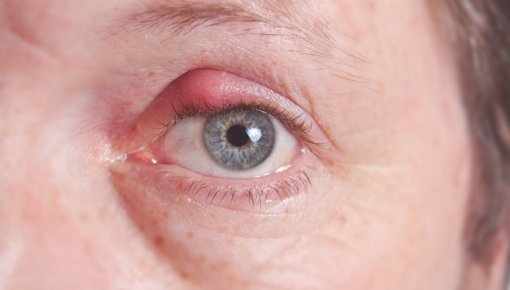 Eyelid inflammations can occur if a gland along the edge of the eyelid becomes inflamed. This leads to swelling. If it's caused by bacteria, this can happen very quickly and hurt. It is then known as a stye (hordeolum) – a pus-filled swelling on the eyelid, caused by an infection.
There's another kind of eyelid inflammation called a chalazion (also known as a meibomian cyst). This develops more slowly and usually doesn't hurt. It occurs after an oil gland (sebaceous gland) has been inflamed for quite a long time. It is not caused by bacteria.
The eyelid has various glands in it that keep the eyes from becoming too dry: a lot of small sweat glands and oil glands near to the eyelashes along the edge of the eyelid, and oil glands on the inner part of the eyelid. The oil that is made there mixes with the tear fluid covering the eye, keeping the eye moist. If a gland at the edge of the eyelid becomes blocked or infected with bacteria, the tear fluid is affected, causing the eyelid to become inflamed.