Treating periodontitis: Professional cleaning and good oral care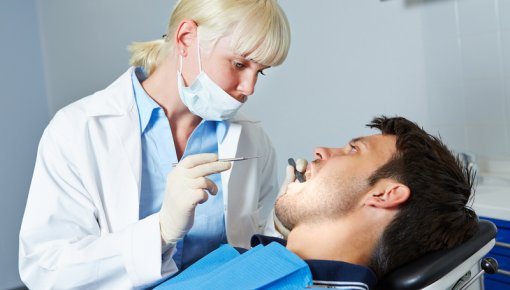 Advanced periodontitis can cause teeth to loosen. Treating the disease in a systematic way can usually at least slow down the progression of periodontitis. For the treatment to be successful, good oral hygiene is absolutely essential.
Dentists can treat periodontitis in various ways. Treatment is needed if there are gum pockets that are at least 4 millimeters deep.
Systematic periodontitis treatment consists of the following steps:
Improving oral hygiene: The dentist or dental hygienist shows you how to clean your teeth properly and removes plaque and tartar (calculus) from your teeth. The professional removal of these tooth deposits is known as "scaling."
Removing plaque and tartar below the gum line (subgingival scaling and root planing, also known as "deep cleaning").
Taking antibiotics, if necessary.
Checking how well the treatment has worked.
Surgical treatment (under local anesthetic) may be considered too.
Structured follow-up care to improve the success of the treatment (supportive periodontal therapy).
Your dentist will advise you on the treatment steps that are needed in your case. He or she will also explain what habits or risk factors may have a negative effect on the periodontitis.
In Germany, statutory health insurance will cover the costs involved in the systematic treatment of periodontitis if it is medically necessary. Certain other conditions must be met too. For instance, the patient has to clean their teeth thoroughly, try to stop smoking if they smoke and – if they have diabetes – get good treatment for diabetes. Before starting systematic periodontitis treatment, the dentist files a request for the statutory health insurance to cover the costs, and the health insurer makes a decision. People who need nursing care or are disabled don't need a separate request for cost coverage.
Dentists often offer other treatments too, but you usually have to pay for them yourself. For example, they often recommend having professional teeth-cleaning before starting the actual periodontitis treatment. They also offer some treatments that aim to rebuild the tissues and bone that support the teeth (the periodontium), as well as approaches such as laser treatment and photodynamic therapy. In photodynamic therapy, a light-sensitive dye is applied to the affected areas and then exposed to a laser beam. This causes a reaction that produces aggressive oxygen, which is meant to kill the bacteria.