What are the treatment options for non-melanoma skin cancer?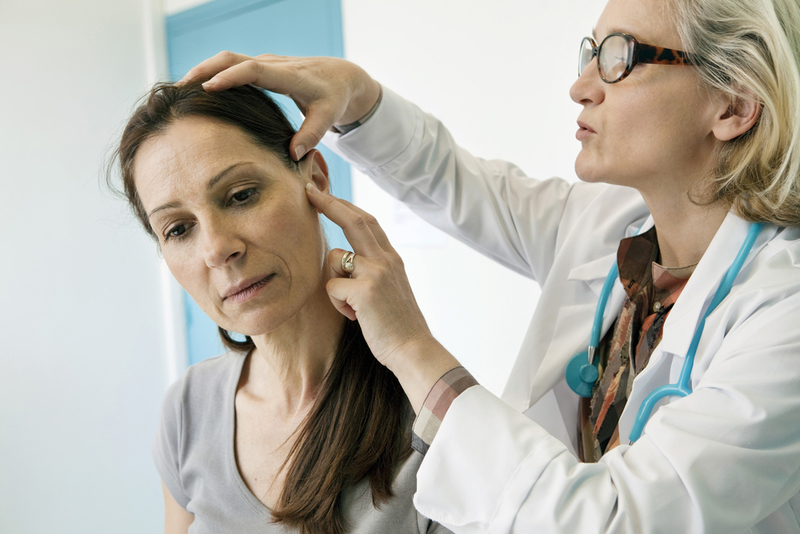 (PantherMedia / imagepointfr)
If someone is diagnosed with non-melanoma skin cancer, the first treatment doctors usually suggest is surgery to try to remove it. Skin cancer can also be treated using medication or radiotherapy. The treatment options will depend on various factors such as the type of cancer, how big the tumor is, and how aggressive it is.
When people talk about non-melanoma skin cancer, they mean either squamous cell carcinoma or basal cell carcinoma. It usually develops on parts of the body that are exposed to the sun a lot and easy to see. Basal cell carcinoma tends to grow slowly and stay in one place. But if it's only treated after a long time, or not treated at all, it might enter deeper layers of tissue. This may end up damaging and deforming the face, bones, spinal cord or brain, making treatment more difficult.
Like basal cell carcinoma, squamous cell carcinoma grows in the area where it first develops, and destroys tissue around it. It's more aggressive than basal cell carcinoma. If left untreated, the cancer might spread to other parts of the body, causing metastatic tumors to arise in other organs. But squamous cell carcinoma is usually detected before that happens.
The treatment options will depend on many factors. These include the type of tumor, how big and aggressive it is, whether it has spread to other parts of the body and, if so, where. Cosmetic aspects and personal preferences may play a role too.
What are the surgical options?
Non-melanoma skin cancer can often be completely removed through surgery, so it is the treatment of first choice. The doctor not only removes the tumor itself, but also some of the tissue around it. This margin is removed to prevent any cancer cells from staying behind and spreading inside the body. Smaller wounds often heal without scarring, but bigger operations can leave visible scars.
There are also other kinds of surgery, including
Mohs surgery (micrographic surgery): This type of surgery is named after the U.S. surgeon Frederic C. Mohs. The aim of the operation is to completely remove the cancer, while removing as little healthy tissue as possible. This is particularly important in basal cell carcinoma, where large or clearly visible areas of skin are affected, leaving only a small amount of healthy skin to close the wound after surgery. In this surgical technique, the visible part of the tumor is removed first. The edges of the removed tissue are then immediately tested in a laboratory: If tumor cells are still found there, it means that the tumor hasn't been completely removed. Then a bit more tissue is cut away from the site and also tested in the laboratory to check whether all of the tumor has now been removed. This procedure is repeated until no more cancer cells are found.
Laser therapy: This involves the use of laser light to remove the damaged skin layer-by-layer. It is mainly used to remove pre-cancerous tissue such as actinic keratosis, as well as early stages of non-melanoma skin cancer.
Cryotherapy: In this procedure, the tumor tissue is frozen to kill the cancer cells. Cryotherapy is used to treat the same conditions that laser treatment is used for, mentioned above.
When is radiotherapy considered?
Radiotherapy, also known as radiation therapy, aims to destroy cancerous tissue using high-energy radiation. In non-melanoma skin cancer, radiotherapy is usually only considered if surgery is no longer possible or if there is a high risk of the cancer returning.
What are the medication options?
To be applied directly to the skin
When considering the treatment options, many people place a lot of importance on avoiding scars as much as possible. Medication may then be an alternative to surgery for the treatment of non-melanoma skin cancer affecting only the top layer of skin.
The topical medications come in the form of creams to be applied to the affected area of skin over a period of several weeks. One of these drugs, called imiquimod, aims to activate the immune response that fights cancer cells. Fluorouracil cream is also an option. This drug works by stopping cancer cells from multiplying.
To be swallowed
A new drug called vismodegib can be used in the treatment of advanced basal cell cancer. It aims to block signals that promote the growth of cancer cells.
As part of photodynamic therapy
In photodynamic therapy, a cream is first applied to the skin. The cream contains a drug that makes the cancer cells sensitive to light. The affected area is then usually covered up to stop light from getting to it. A few hours later, the area is uncovered and a special cold red light is shone onto the tumor and area around it. This activates the drug and destroys the tumor cells. Photodynamic therapy is generally only used for the treatment of non-melanoma skin cancers that have not yet entered deeper layers of skin.
As an infusion (drip)
Chemotherapy is considered if squamous cell carcinoma has started to spread. The medications cisplatin and 5-fluorouracil are commonly used for this purpose, in the form of an infusion (drip). Other medications are sometimes given, such as the EGFR inhibitor cetuximab. The goal of the treatment is generally no longer to get rid of the cancer, but to slow its growth for some time (palliative treatment).