Does medication work?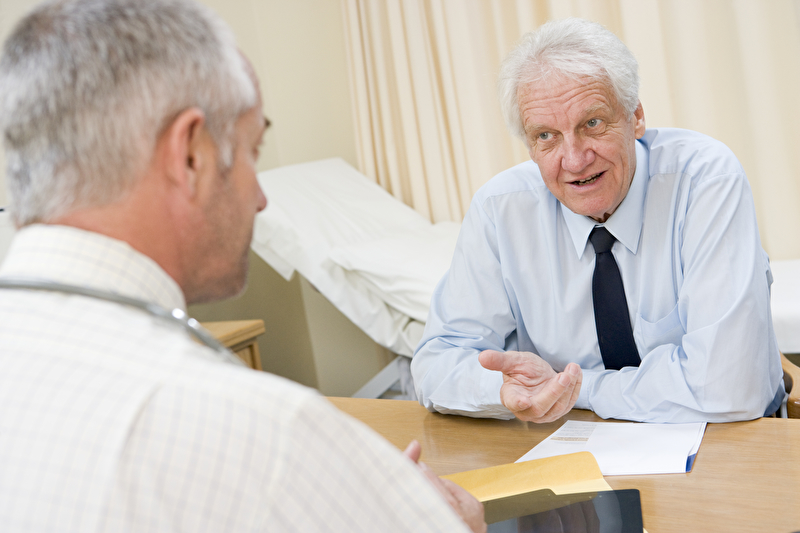 (PantherMedia / Monkeybusiness Images) Medications that are swallowed or applied to the skin can delay ejaculation by a few minutes. These treatments are considered if premature ejaculation has become a major problem. Both types of medication can have side effects too.
Some men already have an orgasm before penetration or shortly afterwards. If this happens almost all the time and becomes a problem for a man, it is considered to be premature ejaculation.
The treatment options are medications that can be swallowed or that can be applied to the tip of the penis (glans). In Germany, the costs of these medications aren't covered by statutory health insurers because they are categorized as "lifestyle drugs," meaning that they don't meet the legal requirements for reimbursement.
Men who decide to have treatment with medication usually choose a type of drug known as selective serotonin re-uptake inhibitors (SSRIs), which are usually taken as tablets. SSRIs are typically used to treat depression. When treating premature ejaculation, one of their side effects becomes useful: SSRIs also increase the time it takes until ejaculation occurs.
Creams, gels or sprays that contain a local anesthetic are an alternative. They are applied to the head of the penis and make it less sensitive.
Medications can also interfere with other drugs being taken at the same time. So it's a good idea to let your doctor know about any other medication you are using before you start treatment with a  new medication. This is also important because of medication intolerances or allergies.
Which SSRIs are used?
The only SSRI approved in Germany for the treatment of premature ejaculation is dapoxetine (trade name: Priligy, among others). Studies have shown that other SSRIs are more effective, though. These mainly include citalopram, fluoxetine, paroxetine and sertraline. When doctors prescribe one of these drugs for premature ejaculation, it is known as "off-label" use. This means that because they are not approved for this purpose, they are not being used as intended. Special requirements then apply. How often you take the medication and the dose you use may also vary from what is used when treating depression.
According to previous research results, dapoxetine is not only less effective; it is also considerably more expensive than other SSRIs, which are available as generics.
SSRIs are only available with a prescription from the doctor, but in Germany the costs aren't covered by statutory health insurers – regardless of whether the medication is approved for this use or not.
Using the medication
Depending on the active ingredient, SSRIs can be taken daily or as needed. When taken as needed, the medication is used a few hours before having sex. When taken daily, you start at a low dose and then increase it over the course of several weeks, if necessary. It may take 2 to 3 weeks to reach the full effect.
The following table shows all of the SSRIs that studies have shown to help:
Table: Use of SSRIs to treat premature ejaculation
Drug
Used
Dose
Not approved (off-label use):
 
 
Citalopram
Daily

20 mg daily
Possible to increase the daily dose up to 60 mg

Fluoxetine
Daily or once a week

When taken daily: 10 to 40 mg
When taken weekly: 90 mg

Paroxetine
Daily or as needed, 1 to 3 hours before having sex

When taken daily: 20 to 40 mg
When taken as needed: 20 mg

Sertraline
Daily or as needed, 3 to 5 hours before having sex

When taken daily: 50 mg to 200 mg
When taken as needed: 50 mg

Approved:
 
 
Dapoxetine
As needed, 1 to 3 hours before having sex

Low dose: 30 mg
High

dose

: 60 mg
The most suitable drug will depend on your individual situation – for instance, how often you have sex. Some men would rather not take medication every day – also because that increases the risk of side effects. Others prefer to use them daily because sex isn't always something that's planned, and then they don't have to worry about the exact time they need to take the medication.
How effective are SSRIs?
In studies, SSRIs delayed ejaculation by up to five minutes when compared to a placebo (fake medication). With increases of 3 to 5 minutes, citalopram and paroxetine helped the most. Dapoxetine had the weakest effect: It increased the time until ejaculation by 1 to 1.5 minutes, depending on the dose. There are hardly any studies that compare the various medications directly, though.
These studies also suggested that SSRIs were able to improve control over ejaculation somewhat and increased sexual satisfaction.
What are the possible side effects?
SSRIs may cause nausea, diarrhea, headaches, dizziness, a dry mouth or sleep problems. They can also lower sexual desire and, in rare cases, cause erection problems.
Depending on the active ingredient and the dose, up to 10% of men in the studies stopped the treatment due to these kinds of side effects.
But occasional headaches, sleep problems or not wanting to have sex are also a normal part of everyday life. If these kinds of problems occur during treatment, it doesn't automatically mean that the medication is to blame. So it might make sense to wait and see if these problems go away. Some side effects occur only at the start of the treatment as well.
When they are taken daily, the use of SSRIs should not be stopped abruptly, because that can cause things like sleep problems, nausea and restlessness. To prevent this from happening, the dose is gradually reduced over the course of several weeks.
What are the advantages and disadvantages of the medications that are applied locally?
Creams, gels or sprays containing the local anesthetics lidocaine or prilocaine can be used as an alternative to SSRIs. They are applied to the head of the penis 5 to 20 minutes before having sex. This can increase the time it takes to ejaculate by about 3 to 6 minutes.
Local anesthetics may cause numbness and burning sensations in the sensitive skin on the head of the penis. One drawback of these medications is that they can also get inside a woman's vagina during sex and cause similar side effects there. So it's important to use a condom whenever possible and to talk with your partner about the treatment. It's also important to know that if the medication is applied more than 20 minutes before having sex, the penis may become so numb that it's temporarily impossible to have an erection.
One alternative is condoms that already contain a local anesthetic. These are available in most drugstores.
What other medications are available?
Impotence treatments are also an option for men who have both erection problems and premature ejaculation. These include various drugs known as PDE-5 inhibitors, such as sildenafil. German statutory health insurers don't cover the costs of this treatment.
Sometimes, other medications may be mentioned as well, such as the painkiller tramadol, tricyclic antidepressants or selective norepinephrine re-uptake inhibitors (SNRIs). But it is not advised to take these medications, due to possible side effects or the lack of evidence supporting their effectiveness.