To prepare for a visit to the doctor and to help you keep track, it's a good idea to write down all of the medication you take, ideally as a list or chart.
In Germany, you may be entitled to have your doctor create and print out a medication schedule for you under certain conditions.
For your own chart, write down any medication that you use: prescription and over-the-counter medicines, as well as herbal products and dietary supplements, in the form of pills, capsules, sprays, creams, suppositories, etc.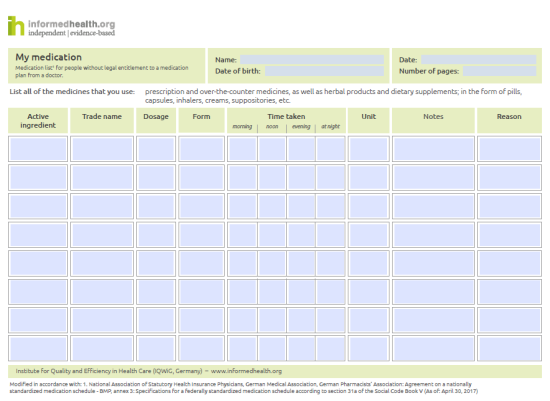 Medication list - template to print and fill in (interactive)
The list or chart should have the following information in it:
Name of the medicine: Active ingredient and trade name
Dosage (how much) and dosage form: for example, 100 mg tablet
When do I take it, and how much: for example, in the morning and in the evening 1 tablet each
Special notes: for example, keep in the refrigerator, don't take with dairy products, or take directly after breakfast
Why do I take the medication: for example, for high blood pressure, pain, or iron deficiency
Example of a filled-in chart:
Drug: Ibuprofen
Trade name: Arthro IBU
Dosage: 800 mg
Form: Tablets
Schedule (when): 1-0-0-0 (1 tablet every morning)
Unit: One piece
Notes: Take directly after breakfast
Reason: Knee pain (osteoarthritis)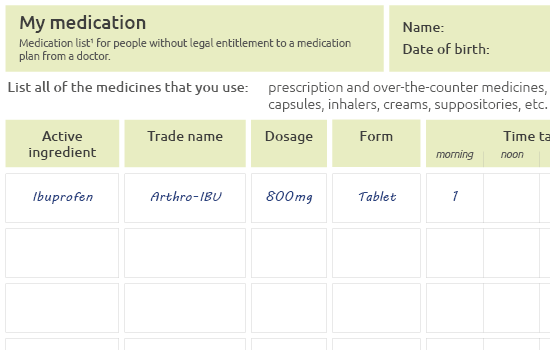 Medication list - example of a filled-in table
Under "Notes," you could also add when you started using the medication and when you're supposed to take it until. You could also write in the date of your next follow-up appointment.
For example:
Started July 07, 2017, next appointment on July 28, 2017
Friedland J. Arzneiformenlehre. Stuttgart: WVG; 2009.
Kassenärztliche Bundesvereinigung (KBV). Ihr persönlicher Medikationsplan. Alle Medikamente auf einen Blick. October 26, 2016.
Kretz FJ, Reichenberger S. Medikamentöse Therapie. Arzneimittellehre für Gesundheitsberufe. Stuttgart: Thieme; 2007.
Lüllmann H, Mohr K, Hein L. Taschenatlas Pharmakologie. Stuttgart: Thieme; 2014.
Plötz H. Kleine Arzneimittellehre für Fachberufe im Gesundheitswesen. Heidelberg: Springer; 2013.
IQWiG health information is written with the aim of helping people understand the advantages and disadvantages of the main treatment options and health care services.
Because IQWiG is a German institute, some of the information provided here is specific to the German health care system. The suitability of any of the described options in an individual case can be determined by talking to a doctor. informedhealth.org can provide support for talks with doctors and other medical professionals, but cannot replace them. We do not offer individual consultations.
Our information is based on the results of good-quality studies. It is written by a team of health care professionals, scientists and editors, and reviewed by external experts. You can find a detailed description of how our health information is produced and updated in our methods.