Stroke: Rehabilitation and returning to normal life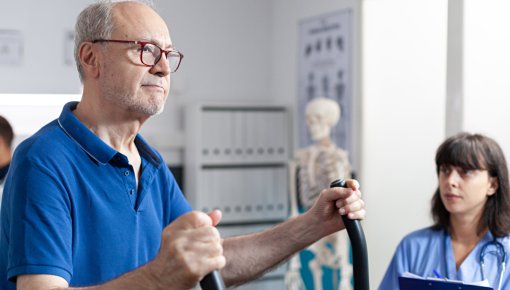 A stroke can have far-reaching consequences. Many people are left with limited physical and mental abilities, and their recovery is often slow. Rehabilitation helps them regain their abilities and cope better in everyday life.
When someone has a stroke, they will first go to hospital for treatment – ideally in a stroke unit. The medical professionals there will try to reduce the immediate effects of the stroke and minimize permanent impairments. The quicker and better this initial treatment is, the less long-term damage can be expected.
The hospital treatment often lasts about one to two weeks. Rehabilitation starts while the person is still in hospital. Once they leave, it can be continued at a special facility and at their home.
Even though it can be quite demanding, rehabilitation is worthwhile. A lot of people see an improvement afterwards. Rehabilitation is especially important in the first six months following a stroke. This is the time when most progress can be made.