What can I do to strengthen my knees?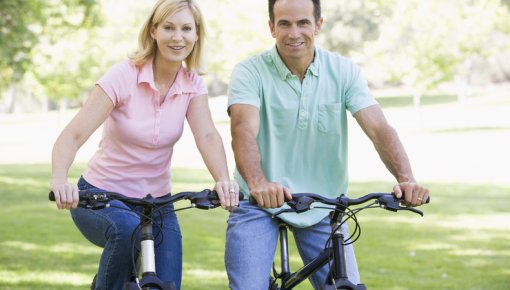 Strength and mobility exercises are among the most important things people with osteoarthritis can do for their knees. These exercises can relieve pain, strengthen the joints, and improve joint function. There's no need to worry about damaging your joints if you do the right kind of exercises.
Many people who have osteoarthritis tend to avoid sports and exercise. They are afraid of putting more strain on their joints and "wearing them down" even more. But doctors now know that it's bad for the joints if they aren't used enough. There are two reasons for this:
Exercise increases the blood supply and the metabolic processes, and supplies the joint fluid with nutrients.
Exercise allows the joint fluid to enter the cartilage in the joint: The cartilage squeezes together like a sponge and releases waste products when under strain, and it absorbs nutrients from the joint fluid when released.
Doing sports also strengthens your muscles, increases the stability of your joints, and improves their flexibility. This not only protects the knee, but also helps in everyday situations – for instance, when climbing stairs or getting up from a chair.
At first your body might need to get used to regular exercise. Your joints may hurt a bit and you could develop sore muscles or feel slightly exhausted. Research shows that it's worth the effort: Regularly doing strength and mobility exercises can relieve pain and improve joint function after only a few weeks. Exercise can also make you feel good because it increases your general wellbeing, increases confidence in your own body, and helps to clear your head.