Oral medications and injections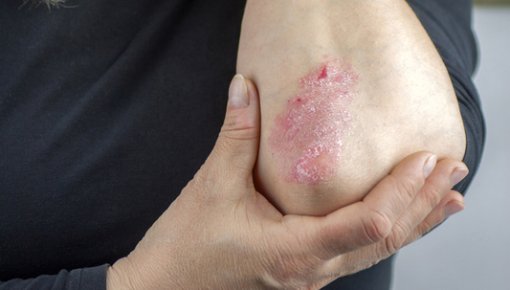 Topical treatment alone doesn't always help enough in people with moderate to severe psoriasis. Then medications that have an effect throughout the entire body are considered. They can be taken as tablets or injected. Because of the possible side effects, it is a good idea to be well informed about their pros and cons.
Mild plaque psoriasis can usually be effectively treated with topical medications. Additional treatment may be needed for moderate to severe psoriasis. UV light therapy is often tried first. If that doesn't help either, oral medications and injections are considered. This is called "systemic treatment" because the medicines enter the bloodstream and have an effect throughout the entire body (or "system"). The treatment typically begins with one of these drugs:
Methotrexate (trade names: Lantarel, Metex, MTX Hexal, Methotrexat AL, for example)
Fumaric acid esters (trade name: Fumaderm)
Ciclosporin (trade names: Ciclosporin Pro, Ciqorin, Sandimmun, for example)
Less common: Acitretin (trade name: Acicutan)
If these medications don't provide enough relief for psoriasis or are unsuitable for some other reason, treatment with biological treatments (biologics) is possible. This group of drugs manufactured using biotechnology includes:
Adalimumab (Humira)
Etanercept (Benepali, Enbrel)
Infliximab (Flixabi, Inflextra, Remicade, Remsima)
Ixekizumab (Taltz)
Secukinumab (Cosentyx)
Ustekinumab (Stelara)
Another option is apremilast (Otezla). It belongs to a separate class of drugs.