Psychological treatments and other interventions for post-traumatic stress disorder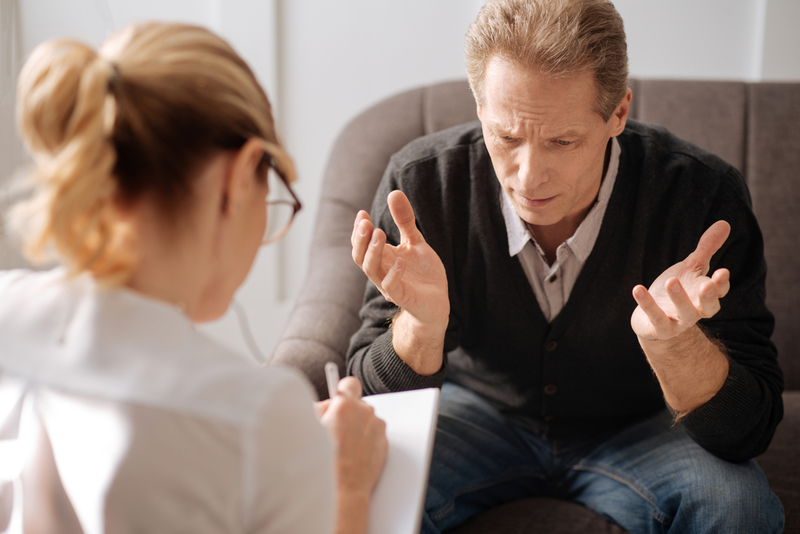 (PantherMedia / yacobchuk1)
Many people manage to process and come to terms with traumatic experiences with the help of their family and friends. But if someone develops post-traumatic stress disorder (PTSD), psychological treatment can help relieve the symptoms.
Most people have upsetting experiences that they can't get out of their head for a long time. Not everyone needs therapy, though. It's often possible to deal with what happened without treatment. But sometimes distressing experiences are so bad that they lead to post-traumatic stress disorder (PTSD). If that happens, professional help may be needed.
PTSD is treated by psychotherapists. Some have special training in trauma-focused therapy too. Younger patients go to see child psychologists instead. The treatment is usually possible on an outpatient basis (without staying in a hospital). A hospital stay may be recommended if the symptoms are too severe for outpatient treatment, or if the person needs a safe space.
It is sometimes difficult for people to get the support they need. There are various reasons for this: Some are put on a very long waiting list, others reject offers of help because they no longer trust other people or because they're ashamed of what happened and don't want to talk about it. Sometimes they don't know that they have PTSD.
Help and support
Immediately after a traumatic experience, what people need most is human kindness and compassion – from family, friends, colleagues, other people who were with them, or professionals. They mainly need to feel safe and make sense of things at first. After accidents or natural disasters, for instance, people often want to find out more about what happened and what that means for them. They would like to know where they can find more help. Others want to be left alone with their thoughts and feelings for a while. Different people may need very different types of help, depending on the situation.
It usually takes a few months to see whether the symptoms affect everyday life so much that psychological treatment is needed. Family doctors can give advice about the most suitable kind of treatment. But you can also seek initial advice from a psychotherapist, a hospital, outpatient trauma clinic or psychosocial information center. If your employer offers company medical services, you could talk to someone there too.
Sometimes traumatic experiences only start becoming a problem many months or years later. Then, too, it can help to talk to friends, family or others who were affected by the experience. Doing so can make it easier to figure out how you feel about the upsetting memories and thoughts – and perhaps finally put it into words. If that doesn't help enough, you can get advice from a doctor or psychotherapist and find out whether psychological treatment or other interventions might help.
Psychological treatments
One of the first steps in psychological treatment for PTSD is building up a good relationship with the therapist. This is a key factor when treating trauma.
PTSD therapy is usually trauma-focused. Trauma-focused therapy approaches involve recalling distressing memories with the support of the therapist. This "safe" confrontation with the traumatic experience aims to make the memories less frightening. The therapist also gives the patient tools and advice with which to process the traumatic experience.
People with severe PTSD may need months of preparation before revisiting the distressing memories. Confronting them too soon may make the psychological problems worse otherwise.
The therapy sessions give the patient and therapist a chance to talk about the effects of the traumatic experience such as conflicts with other people or problems at work that make it hard to deal with the distressing memories. Sometimes the therapy focuses on other illnesses such as depression, an addiction or anxiety disorder rather than the trauma itself.
There's no one "best time" to start psychological treatment. Generally speaking, it's a good idea to start as soon as possible. But trauma-focused therapy can still help if it is started months or even years after the traumatic experience.
The therapy can take place in one-on-one sessions or in groups. Close friends, partners and family can be involved too. The amount of time it takes to complete the therapy varies greatly. Some people only need a few months of therapy, while others may need a few years. In certain situations it's a good idea to talk to a therapist or counselor immediately after a traumatic experience occurs. Then just a few sessions can help to prevent post-traumatic stress disorder.
What does "exposure" involve?
Trauma-focused therapy gives the patient a safe space in which to remember and think about the traumatic experience. The aim is to understand and process what happened, and then find a way to better deal with it. This gives the patient the opportunity to realize that remembering and thinking about the traumatic event isn't as frightening as they thought it might be.
One part of trauma-focused therapy is known as exposure. Exposure therapy involves gradually and carefully revisiting the distressing event. The repeated exposure is meant to help people accept that the traumatic experience is now a part of their life. Ideally, they should be able to think about it without being overwhelmed by negative feelings such as fear.
At first, exposure therapy consists of talks and memories. The patient and therapist talk about stressful situations and how to deal with them. Depending on the type of traumatic experience, it is sometimes possible to then go out and face frightening situations in real life, accompanied by the therapist. This is can be done in a direct or more gentle way.
Examples of direct exposure include the following:
Driving a car again after having a serious car accident
Walking through a park that you were robbed in
Therapy for PTSD involves describing the traumatic experience in detail, either by talking about it or by writing it down. The therapist helps you to face your memories and feelings for longer than you may normally be comfortable with. By seeing that feelings of fear and anxiety usually subside after a while, those feelings may stop coming automatically every time you think of the traumatic experience. Repeated exposure to these situations is generally the most important part of successful trauma-focused psychological treatments.
If you can only remember bits and pieces of what happened, the therapist will try to help you piece them together. The idea is that this will help you to understand what happened and accept it as part of your life.
Last but not least, the therapy helps you to realize that there are other people who have similar problems. It can be reassuring to know that you aren't the only person who needs help coping with traumatic memories, and that it's not your fault. During the therapy sessions you learn strategies to help you deal with what happened, and you can continue using those strategies on your own once the therapy is finished.
When is exposure therapy not possible?
Some people aren't ready to face a traumatic experience yet because it makes them panic or feel too scared. If you're confronted with the memories too soon or in the wrong way, the symptoms might get worse. This might happen in people who had repeated serious traumatic experiences in childhood, for instance. They may no longer be able to trust other people as a result. If there's a risk that trauma-focused therapy might be too upsetting, the therapist focuses on stabilizing treatment first.
People who don't have enough control over their feelings or don't have a structured daily routine often aren't ready to confront what they experienced. It is then more important to solve the other problems first, before starting exposure therapy.
If someone has a negative reaction to exposure therapy, they may self-harm, have physical symptoms, or develop a panic disorder or dissociative disorder (where they suppress certain memories and develop two or more distinct personalities). If there's a danger that exposure techniques could lead to suicidal thoughts, it is not used in therapy at first.
What are the different types of psychological treatment?
The following kinds of psychological treatment are commonly used in the treatment of post-traumatic stress disorder, and covered by statutory health insurers in Germany:
Cognitive behavioral therapy (CBT): The aim of CBT is to learn to change the way you see and interpret experiences, behaviors and feelings. For instance, you might try to change the way you deal with flashbacks – vivid memories that suddenly overwhelm you and you can't suppress. Cognitive behavioral therapy is particularly suitable if you tend to avoid certain situations. It is the best studied treatment for PTSD.
Psychodynamic therapy: Psychodynamic therapy is a combination of various psychoanalysis-based approaches. Like CBT, it involves gradually revisiting and talking about the traumatic experience(s). The therapist helps the patient to understand how past traumatic events are affecting their current behavior. The aim of this type of therapy is to identify and change the thoughts, feelings and relationship patterns that are currently causing problems.
Something known as EMDR ("eye movement desensitization and reprocessing') can be used during therapy too. XXX This technique follows a set plan in eight treatment phases. In one of the phases, the therapist moves one finger steadily from side to side in front of the patient. The patient follows the moving finger with their eyes while focusing on a traumatic memory. Instead of (or as well as) using a moving finger, the therapist can use rhythmic sounds or touch – for instance, tapping on the patient's wrist. It is thought that the eye movements or rhythmic touch can help people process information and reduce the fear associated with traumatic memories.
How effective are the different treatments?
Cognitive behavioral therapy and EMDR are the best studied treatments for post-traumatic stress disorder. Studies have shown that both of these approaches are very effective. The treatments make PTSD symptoms go away completely in about half of all people, and at least relieve the symptoms in others.
Psychodynamic therapy is used in the treatment of many psychological illnesses. But there isn't much comparative research on how effective it is in people who have PTSD. So it's difficult to say how well it works.
Psychological treatment can also help to relieve symptoms in children and teenagers who have had traumatic experiences. Cognitive behavioral therapy is the best studied treatment for young people.
But psychological treatment doesn't always help. The symptoms may not improve despite treatment. Some people decide to stop having the treatment, too.
Other interventions
Particularly when staying in a rehabilitation hospital, other interventions are offered too. These include
Occupational therapy
Art therapy
Music therapy
Relaxation techniques
Movement and body therapy
These body-oriented and creative therapies aim to have an activating effect and provide positive experiences. They can also help people to revisit traumatic memories. The memories are then usually processed with the help of a psychological therapist. For this reason, the above-mentioned types of therapy should not be done without the support of a psychologist. But they can be helpful in people who have milder symptoms, even without the accompaniment of psychological treatment.
Relaxation techniques such as autogenic training aren't suitable for everyone. Traumatic memories may come flooding back when you're deeply relaxed. The types of interventions recommended for people with PTSD usually tend to involve physical or mental activity instead.
Yoga, tai chi or mindfulness training can help you to relax, get in touch with your body and feelings, and improve your mind-body connection. The aim is to increase concentration and focus your attention. Although research hasn't yet delivered clear conclusions, it does suggest that these interventions can relieve certain symptoms in some people.
There is also a lack of research on the effectiveness of movement therapy. But they do suggest that regular movement can help to reduce PTSD symptoms and depression. The studies looked at various interventions, including yoga, cycling and strength training.
Many people who have PTSD try to find ways to process their traumatic experience and find a sense of orientation, meaning and ways to express themselves – for instance, through music, painting, handicrafts or dance. Others find strength in religion and spirituality. People of faith often turn to their religious community for support after tragic events. Most hospitals offer pastoral care.