Diabetic foot problems: Preventing wounds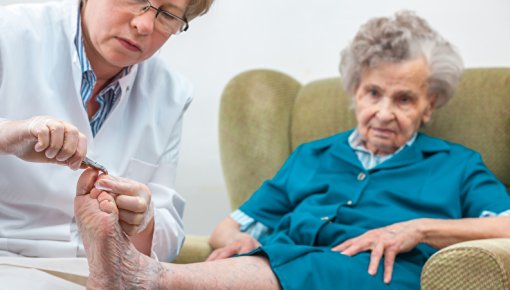 It is important to recognize the signs of diabetic foot problems early enough. Good preventive measures can avoid long-term damage. It is particularly important to take good care of your feet, wear shoes that fit properly and avoid injury. People often need help with these things.
About 20 to 30 out of 100 people who have diabetes develop diabetic foot problems over the course of their life. The first signs of these problems include dry skin on the feet and an increasing number of calluses (areas of thick, hard skin) on the feet. Later, ulcers may develop on the feet or toes. Diabetic foot ulcers are poorly healing open wounds that are hard to treat.
But these long-term consequences of diabetes can be prevented. Doctors, family, good friends, nursing staff and regular medical foot care (podiatric treatment) can help here. It is particularly important to get support if you find it hard to take good care of your feet yourself.