Dietary supplements: Can they also be harmful?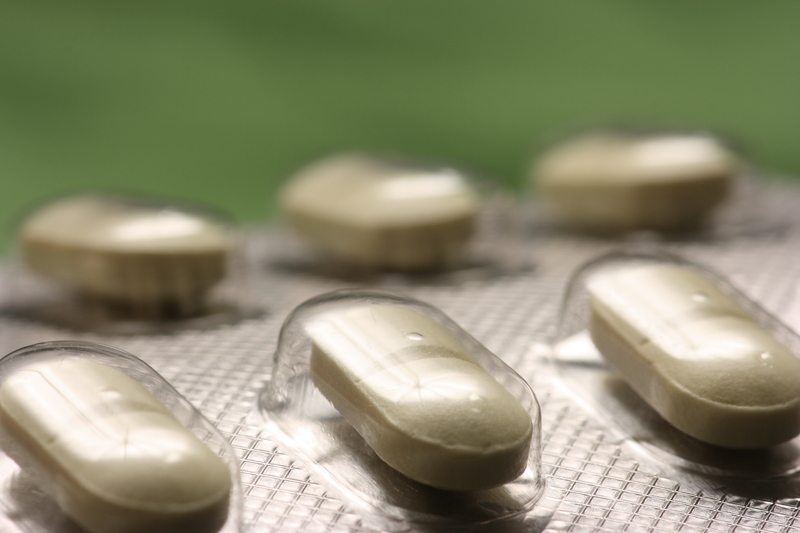 (PantherMedia / Vladimir Raus)
Antioxidant dietary supplements do not help prevent cancer and other life-threatening conditions. Excessive doses of the antioxidants vitamin A, vitamin E and beta-carotene can even increase the risk of dying sooner.
Many people take vitamin C or beta-carotene supplements in the hope of improving their health and preventing illness. These products even claim to help people live longer by protecting them from cardiovascular (heart and circulation) diseases and cancer.
This assumption is based on the theory of "free radicals." These "free radicals" constantly occur in the cells of the body wherever oxygen is used to produce energy. They can damage the cells, which is why all of the body's cells have a means of protection from free radicals.
There is some debate as to whether antioxidants can increase this level of protection. Antioxidants are substances that reduce the amount of free radicals in our cells. They include vitamins A, C and E, beta-carotene and selenium. They are mainly found in fruit and vegetables. Many people think that they could boost their health by taking dietary supplements or eating or drinking antioxidant-enriched foods.
Studies on the long-term use of antioxidants
Researchers from the Cochrane Collaboration wanted to find out whether there are any health benefits to regularly taking dietary supplements, or whether it could even be harmful. They specifically wanted to find out whether antioxidant dietary supplements can help people live longer. They found 78 studies on this question, involving almost 300,000 adults. These studies were a good basis for evaluating the benefits of antioxidants.
The study participants generally took one or more antioxidants, a placebo or no medication on a daily basis, some of them for several years. Most of the participants were healthy at the time of starting the study. One fourth of them had a pre-existing condition, affecting for instance their stomach, bowels, heart, skin or kidneys.
Most of the participants took the antioxidants daily in the following amounts:
Vitamin C: 60 to 2,000 milligrams
Beta-carotene: 1.2 to 50 milligrams
Vitamin E: 10 to 5,000 IU (international units)
Vitamin A: 1,333 to 25,000 IU
Selenium: 20 to 200 micrograms
These were mostly much higher amounts than are usually taken per day as part of a balanced diet.
Most of the participants took high-dose multivitamins. The studies lasted an average of almost three years, with some lasting up to twelve years.
No proof of benefits – harmful effects cannot be ruled out
The results disproved the belief that antioxidant dietary supplements could help people live longer. In fact, the analysis of the studies showed that taking vitamins A, E and beta-carotene tended to shorten lives instead. But the studies did not state the causes of death - the researchers assumed that the main causes of death were most likely to have been cancer or cardiovascular disease.
The results were the same for those participants who were healthy and those who had an illness at the beginning of the studies. But they don't apply to all antioxidants: Selenium and vitamin C did not increase mortality. But there was also no proof that selenium and vitamin C prevent earlier death.
Good-quality research found that all dietary supplements containing vitamin A, E and beta-carotene led to an increase in the number of deaths. For example, the results of studies on dietary supplements containing vitamin E showed that:
In the group that took a placebo or nothing, around 10 out of 100 people died over the course of study.
In the group that took vitamin E, around 12 out of 100 people died.
Antioxidants can also have side effects. Vitamin E, beta-carotene and selenium may cause constipation, diarrhea and gas, for example. Taking very large quantities of vitamin A and C can cause itching.
A balanced diet provides enough protection
The Cochrane review didn't find any proof that antioxidant dietary supplements prevent cancer or other life-threatening diseases. Excessive doses may even increase the risk. Other studies on dietary supplements showed the same results. Of course, this doesn't mean that these substances should be avoided: Our bodies need vitamins and minerals and we usually get enough from a balanced diet with enough fruits and vegetables. But excessive amounts from taking too many dietary supplements could be harmful.
There are currently no binding recommendations in Germany or other European countries regarding safe upper limits for substances in dietary supplements which the manufacturers of dietary supplements would have to refer to. However, there are plans to define upper limits for vitamins and important minerals. You can also find more information on this subject from the German Federal Institute for Risk Assessment (BfR).
Bjelakovic G, Nikolova D, Gluud LL, Simonetti RG, Gluud C. Antioxidant supplements for prevention of mortality in healthy participants and patients with various diseases. Cochrane Database Syst Rev 2012; (3): CD007176.
Fortmann SP, Burda BU, Senger CA, Lin JS, Beil TL, O'Connor E et al. Vitamin, Mineral, and Multivitamin Supplements for the Primary Prevention of Cardiovascular Disease and Cancer: A Systematic Evidence Review for the U.S. Preventive Services Task Force. April 15, 2014. (AHRQ Publication No. 14-05199-EF-1).
Schwingshackl L, Boeing H, Stelmach-Mardas M, Gottschald M, Dietrich S, Hoffmann G et al. Dietary Supplements and Risk of Cause-Specific Death, Cardiovascular Disease, and Cancer: A Systematic Review and Meta-Analysis of Primary Prevention Trials. Adv Nutr 2017; 8(1): 27-39.
Vinceti M, Dennert G, Crespi CM, Zwahlen M, Brinkman M, Zeegers MP et al. Selenium for preventing cancer. Cochrane Database Syst Rev 2014; (3): CD005195.
IQWiG health information is written with the aim of helping people understand the advantages and disadvantages of the main treatment options and health care services.
Because IQWiG is a German institute, some of the information provided here is specific to the German health care system. The suitability of any of the described options in an individual case can be determined by talking to a doctor. informedhealth.org can provide support for talks with doctors and other medical professionals, but cannot replace them. We do not offer individual consultations.
Our information is based on the results of good-quality studies. It is written by a team of health care professionals, scientists and editors, and reviewed by external experts. You can find a detailed description of how our health information is produced and updated in our methods.