Non-drug interventions for Alzheimer's disease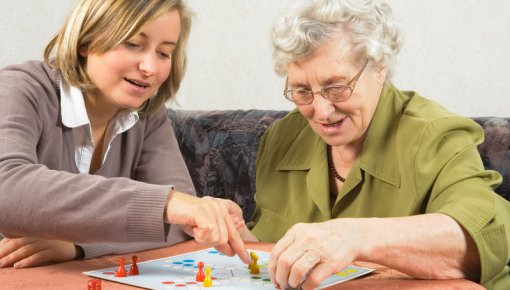 Non-drug interventions for Alzheimer's disease include things like memory training, mental and social stimulation, and physical exercise programs. Some of these strategies could possibly improve people's cognitive performance and increase their independence.
As Alzheimer's disease progresses, it becomes more and more difficult for people to do everyday activities on their own. They become forgetful and increasingly have problems expressing themselves in words. Their orientation in space and time gets worse and their personality changes. This makes good-quality care and emotional and social support all the more important: People who have Alzheimer's need loving and stable relationships and an understanding environment.
There is currently no cure for Alzheimer's disease. As well as medications, there are non-drug interventions that aim to delay the loss of mental abilities, to help people stay independent in everyday life for as long as possible, and to increase their wellbeing and quality of life. These non-drug interventions include memory and orientation exercises, art therapy, aromatherapy and music therapy, and contact with animals. Caregiver training for family members is also offered.
It's often difficult to say how beneficial these common interventions are, though. A few of them have been very well studied. But there is hardly any high-quality research on many of the non-drug interventions. The most suitable options in any given case will depend on things like the person's symptoms, how far the disease has progressed, the causes of certain behaviors, and their life circumstances. Different treatment goals can influence the decision too. The person's life history and personality play an important role as well.
It's important to make sure that interventions don't demand too much of the person and aren't stressful. They should allow a sense of achievement in order to improve quality of life. Which non-drug interventions are most suitable for someone is best found out with the help of specialists, for example in the fields of medicine, nursing, psychology, social work, occupational therapy and physiotherapy.