Treating spinal bone fractures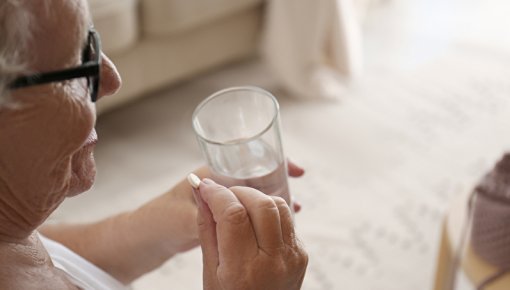 Fractured vertebrae (spinal bones) often don't cause any symptoms, or only mild symptoms, but in some cases they cause severe pain. The pain usually gets much better within six weeks. Painkillers can help during that time. In most cases, it doesn't make sense to also inject bone cement into the fractured spinal bone.
Osteoporosis increases the risk of fracturing (breaking) bones. Spinal bone fractures are the most common type. About two thirds of fractured spinal bones go unnoticed. They are sometimes discovered by chance if an x-ray is done for another reason and the fracture has already healed.
But fractured spinal bones can also cause back pain that is sometimes severe and restricts mobility. Then various conservative treatments are usually combined:
Acute pain management: Painkillers help, particularly in the first few weeks after a fracture. They relieve the pain, helping you to remain active. That's important because bones and muscles soon become weak when not used for longer periods of time.
Physical therapy and exercise therapy: Long periods of bed rest tend to be discouraged because that can make your muscles weaker. Instead, it's a good idea to carefully move your back again as soon as possible. Physical therapists determine the specifics of the treatment based on your symptoms and the stage of healing. If the fracture has healed after 6 to 12 weeks, you can do more again. Then exercise therapy with suitable exercises can help to strengthen your bones and muscles, and also improve your balance and coordination. That protects the bones and also prevents falls.
In addition to these conservative treatments, it is also possible to have bone cement injected into the fractured spinal bone (in procedures known as vertebroplasty or kyphoplasty). The aim is to stabilize the bone. But several good-quality studies have shown that most people don't benefit from this kind of procedure. The treatment can help a little in some people with very severe pain. It is a good idea to carefully weigh the pros and cons of bone cement treatment because it can also cause serious complications.
The most suitable treatment for you will depend on the severity of the pain, the exact type of spinal bone fracture, and your overall health.
There is also another type of surgery that involves connecting spinal bones with screws and rods. But that is only very rarely needed. It might be considered if trapped nerves have caused complications like numbness in the legs.