Finding support in Germany - formalities and financial aspects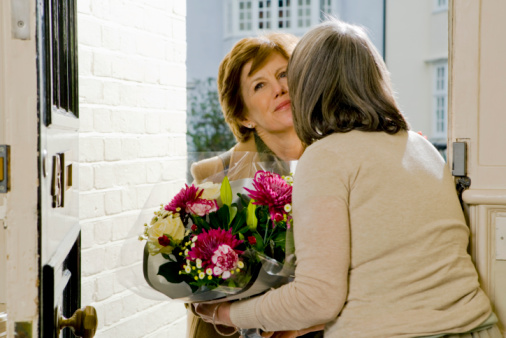 (Jupiterimages / Pixland / Thinkstock)
Depending on your individual circumstances, there are many things that will need to be organized if you have metastatic breast cancer. These include financial issues like sickness benefit and official matters such as applying for rehabilitation, or possibly for home help. You may also need to plan returning to your job.
The cancer and its treatment can profoundly change everyday life. Depending on whether you are (still) working and/or have children to look after, you have to re-organize your day-to-day responsibilities and activities. Practical support like help in your household or with childcare is very important. Many women find it difficult to give up their role as "caregiver" over time, and to depend on the help of others as they lose physical strength. Still: despite the burden caused by the disease and the treatment, many women with metastatic breast cancer live a fulfilled life and keep up their normal everyday lives as much as possible.
After leaving the hospital or rehabilitation center
You might feel anxious or uncertain when a long stay in an inpatient facility comes to an end. Which doctors will see to my medical treatment? How will I cope with my everyday life at home? How can I look after my kids? How can I manage to return to work? These are some of the questions many women ask themselves. If you are worried about what will happen next once you've returned home, you can rest assured that there are places you can go to for help and support.
While you are in the hospital or in the rehabilitation clinic, you can already contact the (clinic's) social services department. If you aren't sure who to talk to, ask the nurses or doctors on your ward about the social services. A social worker there can plan your discharge and the time after that with you. You and/or your family might be entitled to home help or outpatient nursing care. The social worker can also support you with words and deeds in planning your day-to-day life, and help you apply for additional social or financial help to make it easier for you to return to your everyday life.
Your clinic might also offer you transitional care to make your return home as smooth as possible. You will find a selection of services in Germany offering information, counseling and support at the end of this article.
Health and pension insurance
In Germany, your statutory health insurance fund (Krankenkasse) pays for all interventions that are medically necessary, including outpatient treatment, hospital treatment, therapeutic interventions like physiotherapy, and healthcare products like breast prostheses. The costs of rehabilitation are usually covered by health or pension insurance funds (Rentenversicherung). The pension insurance fund is usually responsible, for example, if the aim of rehabilitation is to prevent people becoming unemployed due to disability. For the costs to be covered, a doctor's prescription is always required. The clinic's social services can also help you in matters concerning health insurance, and support you when you apply for rehabilitation or home help.
In Germany, as an employee with statutory health insurance, you get sickness benefit for a maximum of 78 weeks in three years if you are unable to work because of one illness. Within this period of time you are entitled to sickness benefit for 18 months at a stretch, or several times for shorter periods. You can apply to your health insurer for this kind of sickness benefit.
In Germany, if people with statutory health insurance have lived with cancer for a long time, their maximum additional payment is lower. They only have to pay a maximum of one per cent of their gross household income (instead of two per cent). Your health insurance fund can give you more information.
Some of the regulations on services and cost coverage differ for public servants (Beamte) and people with private health insurance. If this applies to you, it is a good idea to talk directly to your private health insurance company or benefits office (Beihilfestelle).
You can also apply for an ID card for severely disabled people (Schwerbehindertenausweis) at the pension and social security office (Versorgungsamt). If your health gets worse, you can apply to have your disability level increased (Grad der Behinderung, GdB). The ID card for severely disabled people allows you to get discounts and better job protection at your workplace.
Occupational rehabilitation or retirement?
Not being able to work anymore can be a big change – not only financially, but also socially. Some women feel they are no longer an active and equal member of society. Other women leave their jobs without regret, dedicate themselves to other tasks and spend more time with family and friends.
Your priorities might change over time. Only you can find out what activities are particularly important to you and what kind of environment makes you feel good. You might be able to talk to your employer about working part-time. It may also be possible to get a different job or do volunteer work, where you have greater flexibility.
People who want to get back to work after having been ill for a long time often can't work as much as they used to right away. In Germany, the "Hamburg model" offers the possibility of step-by-step professional reintegration. This model allows working hours to be adjusted in a flexible way. You start by working a few hours a day, and if you manage that well enough you can gradually increase your working time. To do this kind of reintegration you need to get the approval of your employer and your health insurance fund first.
In Germany, under certain conditions, you can apply for unemployment benefit (Arbeitslosengeld I or II) at the Employment Agency (Agentur für Arbeit) or for social benefit (Sozialgeld) at the social welfare office (Sozialamt). The German Cancer Aid (Deutsche Krebshilfe) has a hardship fund to give small-scale, unbureaucratic and quick help if people have financial problems caused by cancer.
In Germany, if you can't go back to work or are only able to go back to a limited extent, you can apply for a pension at your pension insurance fund. Depending on your age and whether you fulfill additional requirements, you can apply for a regular "old-age" pension or for an disability pension. If you have disability insurance (Berufsunfähigkeitsversicherung), the conditions for getting disability pension may be fulfilled.
Other places to turn to
In Germany, you are entitled to a wide range of support and services, including sickness benefit, home help or nursing care. There are numerous places where you can get advice and help if you want to apply for support.
Experts can help you, both with personal decisions and with financial or socio-legal issues. You can get individual advice – either over the telephone or in person – from
You can also contact hospital social services or a rehabilitation service center. These facilities offer information on medical and job-related rehabilitation and help with filing applications. You can get the addresses from your health insurer or pension fund.