Medication to prevent joint damage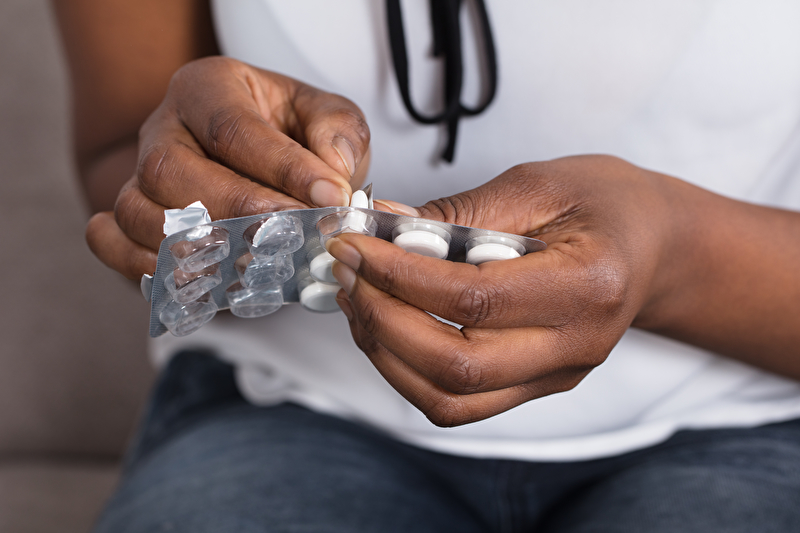 (PantherMedia / Andriy Popov) Rheumatoid arthritis can lead to permanent damage in the affected joints. "Disease-modifying" medications can slow down or stop the progression of the disease. They also relieve the pain and swelling.
Disease-modifying drugs reduce the inflammation in the joints, which helps to prevent joint damage. They are used regularly and continuously – in other words, even during symptom-free phases. It takes several weeks or months for them to start having a noticeable effect. These drugs are also known as DMARDs ("Disease-modifying anti-rheumatic drugs").
There are two main groups of disease-modifying drugs: conventional DMARDS and biologic DMARDs (biologics).
What are conventional disease-modifying drugs?
When disease-modifying treatment is started, conventional DMARDs are used at first. These include:
Methotrexate (MTX)
Leflunomide
(Hydroxy)chloroquine
Sulfasalazine
Methotrexate is considered to be the best tolerated of these drugs in the long term, so it is typically the first medication that is tried out. Methotrexate can be taken once a week as a tablet or injected as a solution. The dose is usually between 15 and 25 mg, depending on the person's body weight, and it is gradually increased over the first few weeks of treatment.
The various conventional DMARDs work in different ways, and can have different effects in different people. So if one medication doesn't help or isn't well tolerated, other medications can be tried out.
How are the medications used?
The choice of drug depends on various factors, including how doctors think the condition will develop, how far it has progressed, and whether certain medications can't be used, for instance because the person has other medical conditions.
Generally speaking, treatment is started using methotrexate as a basic therapy. Because it can take a while for methotrexate to start working, it is often combined with the steroid medication prednisolone at first. After a few weeks you have an appointment with the doctor to see whether the treatment is helping. The appointment involves physical examinations, blood tests and sometimes x-rays too.
After six months, the goal of treatment should be reached: a complete – or at least very noticeable – reduction in inflammation. If that hasn't happened, methotrexate can be combined with a different conventional disease-modifying drug or with a biologic drug. If people have to stop using methotrexate because they don't tolerate it well, they can carry on using a biologic drug on its own.
The aim of long-term treatment with disease-modifying drugs is to prevent joint damage, or delay it for a long time, if possible. Some people switch to a different medication after a while, for example because they don't tolerate the first medication well or because it's no longer effective enough. In other people, the dose and number of medications can be reduced after a while. But disease-modifying drugs don't have a noticeable effect in some people, so they stop using them.
How effective are drugs like methotrexate?
Research has shown that conventional disease-modifying drugs can prevent damage to joints and relieve symptoms. In research on medication for rheumatoid arthritis, a treatment is considered to work if it reduces swelling in the joints and at least three of the following improvements occur:
Pain relief
Reduced inflammation
Improved joint function
Better overall rating of general health
An analysis of methotrexate studies that lasted one year found the following:
Symptoms were reduced by at least a half in 23 out of 100 people who took methotrexate.
Symptoms were reduced by the same amount in 8 out of 100 people who took a placebo (fake drug) for comparison.
So treatment with methotrexate helped 15 out of 100 people to feel significantly better. Symptoms like morning stiffness also improved in a lot more people who took a conventional disease-modifying drug.
There hasn't yet been any good-quality research looking into whether one particular conventional disease-modifying drug is more effective than any of the others.
What are the possible side effects?
Methotrexate is the most commonly used conventional DMARD because it is usually well tolerated. But it can still cause various side effects. These include:
Gastrointestinal (stomach and bowel) problems and nausea: in about 5 out of 100 people – particularly at the start of the treatment.
Upper airway infections: About 12 out of 100 people had more colds or acute bronchitis infections within the first year.
Hair loss: in about 5 out of 100 people.
Inflammations of the membranes lining the inside of the mouth: in about 4 out of 100 people.
Most people can cope well with the side effects. But in about 3 out of 100 people the side effects are so bad that they stop the treatment.
Leflunomide, hydroxychloroquine and sulfasalazine can also cause side effects such as gastrointestinal problems and nausea. As well as that, leflunomide can lead to weight gain and an increase in blood pressure, sulfasalazine can cause allergic skin reactions, and hydroxychloroquine can lead to vision problems.
Many people accept mild side effects because the treatment is effective and helps them cope better with the disease in everyday life. And mild side effects are often only temporary. That was also shown in research: People who took these medications were more likely to continue treatment than those who used a placebo containing no active ingredient.
What can you do about the side effects?
Some of methotrexate's side effects occur because it interferes with the effect that folic acid has in the body. The risk of these side effects can be lowered by also taking low-dose folic acid (5 to 10 mg) once a week. Studies have shown that this helped more than half of the people who had side effects to continue their treatment with methotrexate.
It is also possible to inject the medication under the skin or into a muscle instead: When the medication is given in this way, side effects such as nausea, diarrhea and inflammations of the membranes lining the mouth are less common.
Because of the increased risk of infections, pneumonia is more likely to develop. In very rare cases the medications can cause other serious side effects too, such as liver damage or changes in blood cell count. In order to detect these kinds of serious side effects earlier, blood and urine samples are tested regularly during the treatment. It's generally always important to talk to a doctor if side effects occur.
When deciding which medication to use, it's also important to take other medical conditions into account. For instance, in very rare cases hydroxychloroquine can damage the retina (lining of the back of the eye) so it isn't suitable for people who have a retinal disease. Because sulfasalazine can lead to allergic skin reactions, it shouldn't be used in people who have certain allergies.
When are biologics an option?
Biologic drugs are made from living cell cultures. They work by, for instance, interfering with certain chemical messengers in the body's immune system, and that influences the rheumatic inflammatory response. These drugs are sometimes also called biologic disease-modifying antirheumatic drugs (biologic DMARDs).
Biologics are considered as a treatment option for rheumatoid arthritis when conventional DMARDs haven't helped enough. Biologics are typically used in combination with methotrexate. People who don't tolerate methotrexate well can start treatment with a biologic only. All of the biologics approved in Germany so far are given as an injection or an infusion (a drip). It's also possible to inject the drug under your skin yourself.
The following biologic DMARDs have been approved for use in Germany and other countries:
Abatacept
Adalimumab
Anakinra
Certolizumab pegol
Etanercept
Golimumab
Infliximab
Rituximab
Tocilizumab
Biologics can reduce pain, swelling and morning stiffness, and also help against fatigue. But they can have various side effects too. For example, skin rashes, itching or pain can occur where the injection or infusion needle was inserted. They may lead to infections of the airways as well.
If a biologic is used in addition to basic therapy with methotrexate, within one year an extra 16 out of 100 people are symptom-free or experience a clear improvement in symptoms. But an extra 9 out of 100 people develop an infection of the airways, and 2 out of 100 have a severe infection.
What should women be aware of if they're pregnant or trying for a baby?
Methotrexate and leflunomide can lead to the development of birth defects in an unborn baby. There is some evidence to suggest that these drugs might damage genetic material (genes) in men's sperm too. So it's important to use safe contraception if you are on these medications. It's still important to use safe contraception for some time afterwards as well: for six months after stopping treatment with methotrexate, and even for two years after treatment with leflunomide. Women who are breastfeeding also shouldn't use methotrexate or leflunomide during that time.
Ideally, women who have rheumatoid arthritis and would like to have children should talk to their doctor before they get pregnant. Otherwise, they should do so as soon as they find out that they are pregnant.
There is also some evidence to suggest that methotrexate can reduce women's and men's fertility while they are taking them. Sulfasalazine can reduce men's sperm count too.