Passive treatments: Massages, heat and manual therapy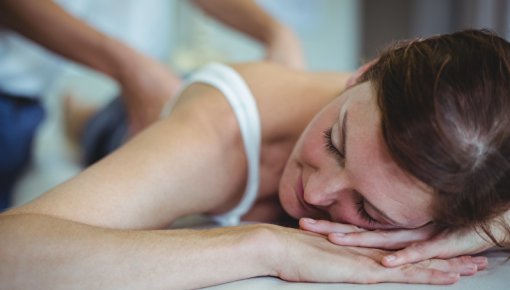 Passive treatments such as massages or applying heat may help relieve back pain for a short time, if at all. Some of these treatments can improve your wellbeing. But active treatments are more important when trying to improve low back pain. These include exercise and strength training, relaxation techniques and psychological treatments.
Research has shown that active treatments provide the most effective relief for non-specific low back pain. By "active" we mean treatments that you actively participate in, that you carry out yourself and also continue doing yourself over the long term. Examples of active treatments include exercises to strengthen and stretch your muscles, pilates, yoga and relaxation techniques. Psychological treatments such as biofeedback or cognitive behavioral therapy are also considered to be active treatments.
Passive treatments, on the other hand, are carried out by other people – because you can't do them yourself or because they don't involve being active yourself. These treatments include the following:
Acupuncture
Electrotherapy
Kinesiology taping
Short-wave diathermy
Laser therapy
Magnetic field therapy
Manual therapy techniques such as manipulation and mobilization of the spine
Massages
Osteopathic treatments
Applying heat or cold
Therapeutic ultrasound
Traction
According to previous research, passive treatments only help for a short time or do not help at all. Many of them haven't been properly tested in good studies. When it comes to most of the complementary or alternative medicine approaches, such as magnetic field therapy, there is no scientifically plausible explanation for how they might work either. The claimed mechanisms of action often contradict the basic principles of science. Most of the passive treatments are classed as individual health care services in Germany (individuelle Gesundheitsleistungen, or IGeL for short), which means they aren't covered by German statutory health insurers.
Although things like massages, applying heat or acupuncture can improve your wellbeing, they don't help in the long term so they aren't a solution for chronic back pain. In the German national guidelines (Versorgungsleitlinie), these passive treatments are therefore only seen as an option when used in addition to active treatments.
The national guidelines consist of a collection of recommendations to improve the care of people with back pain. They were developed by several medical societies in Germany, based on current research.